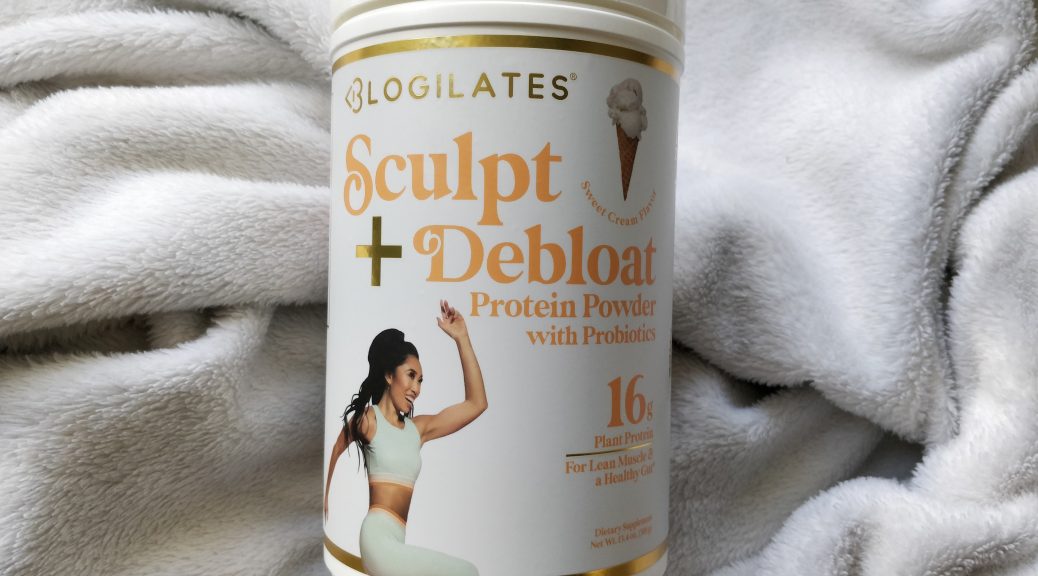 REVIEW: Blogilates Sculpt & Debloat Protein Powder with Probiotics
REVIEW: Blogilates Sculpt & Debloat Protein Powder with Probiotics
As I try to get more serious about my running, I realized I need to get more serious about my recovery too. While this means taking rest days (something I don't struggle with), I think for me it also means increasing my daily protein intake (something I do struggle with). So, I've decided to start the journey of finding a plant-based protein powder I actually enjoy.
As a fan of Cassey Ho, both her YouTube workouts and her Popflex brand, I decided to try out the Blogilates Sculpt & Debloat Protein Powder with Probiotics sold exclusively at Target.
About Blogilates Sculpt & Debloat Protein Powder with Probiotics
Cassey Ho first announced the Blogilates Sculpt & Debloat Protein Powder with Probiotics in April 2022 with two flavors that she says were based on her obsession with ice cream: Sweet Cream and Chocolate Shake. (Update: In April 2023, Cassey unveiled two more flavors: Matcha Milkshake and Ube Ice Cream. I'm honestly very intrigued! She also rolled out new protein bars. Check out my review of the Blogilates Sculpt & Debloat Protein Bars with Probiotics here.)
According to her blog announcement, "Sculpt + Debloat is a blend of yellow pea and organic brown rice protein, which provides all 9 essential amino acids to support muscle building." She says she also added probiotics to help prevent any bloating issues.
For a serving size of two scoops, the nutrition label says it contains 100 calories, 16 grams of protein, and 4 grams of fiber. The packaging also declares that it is vegan, non-GMO, soy free, and gluten-free.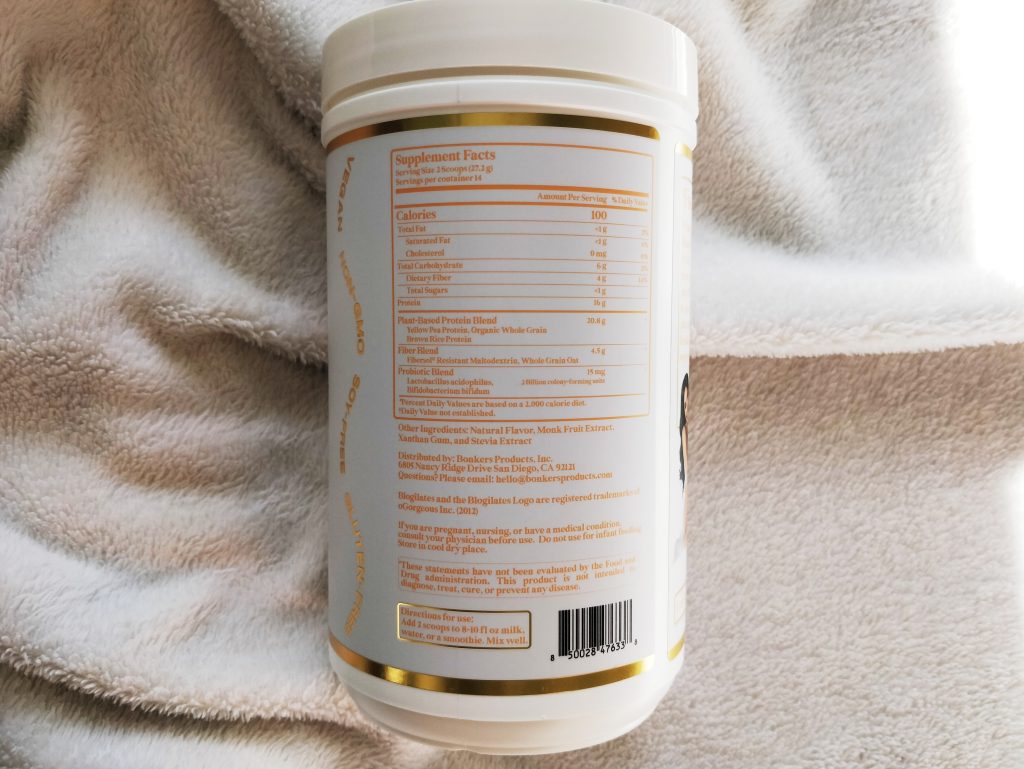 In terms of price, this is pretty expensive. It's $27.99 for the 13.4 oz container, which contains 14 servings. So, about $2 a pop. (I did manage to grab it on sale.)
How do you use Blogilates Protein Powder?
The recommended directions for use include mixing 2 scoops of the power with 8-10 fl oz of milk, water, or a smoothie. (I personally can't imagine mixing any protein powder with just water, but to each their own I suppose.)
My Experience with Blogilates Sculpt & Debloat Protein Powder with Probiotics
I first tried the sweet cream protein powder with exactly 10 fl oz of unsweetened soy milk and mixed it together in the blender (I wasn't risking any weird clumps). It wasn't bad, but I wasn't the biggest fan either. It had a very sweet (I know it's sweet cream…) artificial birthday cake kind of a taste? It's hard to describe.
My next go around, I added a frozen banana into the mix for a more smoothie-like experience. This time, I found it all to be too much and struggled to finish the serving. The combo of the frozen banana and powder created a very thick substance that was not the most pleasant mouth feel.
It wasn't until the third time, I found what I believe is the best way to drink the protein powder. I added a sizeable serving of frozen blueberries to the blender along with the powder and soy milk. I feel like the frozen blueberries help soften the overly sweet, sweet cream flavor and made it pleasantly cold without being too thick.
One word of warning: I did try to mix in some of the powder into a cup of coffee, thinking that the sweet cream flavor could act almost as a coffee creamer. This was not the case. Just trust me. Don't do it.
Final Thoughts on the Blogilates Sculpt & Debloat Protein Powder with Probiotics
Would I buy it again? Honestly, probably not, at least not in sweet cream. (I would consider the chocolate shake flavor if I found it on a good sale.)
While I have found a way to drink the sweet cream, I don't love it. I really want to find a vegan protein powder that I want to drink and almost look forward to. Does this exist??? I really don't know. (If it does, please leave a comment below with your recommendations.) I haven't been the biggest fan of past protein powders I've tried either. Maybe, I'm the problem. *Cue Taylor Swift's Anti-Hero*
I also hope to find a protein powder with a little more protein in a serving. Cassey Ho's blog explains that the protein content isn't as high as some others on the market, because she felt keeping it lower helped avoid any grittiness. While this is a completely logical explanation, I do still find myself wanting more.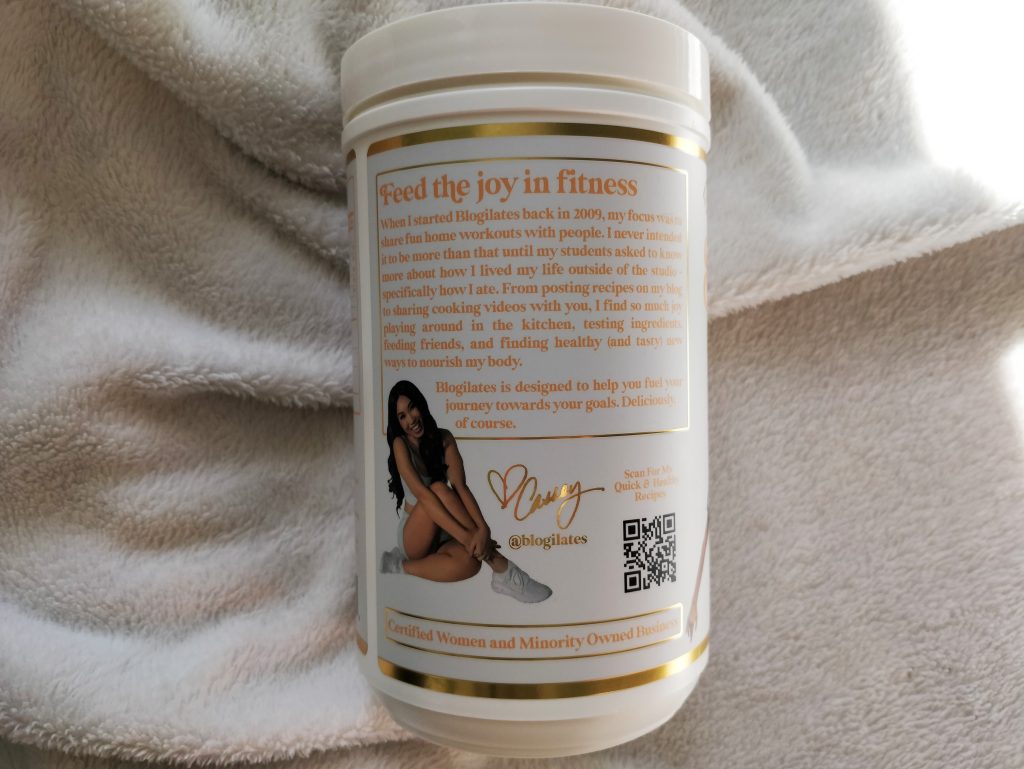 I'm starting to wonder if I need to branch out flavor-wise. I've typically only tried vanilla protein powders or vanilla-ish flavors like this sweet cream. Maybe, I should actually take the risk and try out a chocolate powder in the future.
Note: It seems like a lot of people prefer to use this protein for baking rather than drinking. In fact, Cassey Ho has a cookbook for just that purpose: Sculpt: A Protein Cookbook. (If you're not ready to commit to getting the cookbook, she does share a recipe for Supersculpt Pancakes that seems to be popular.)