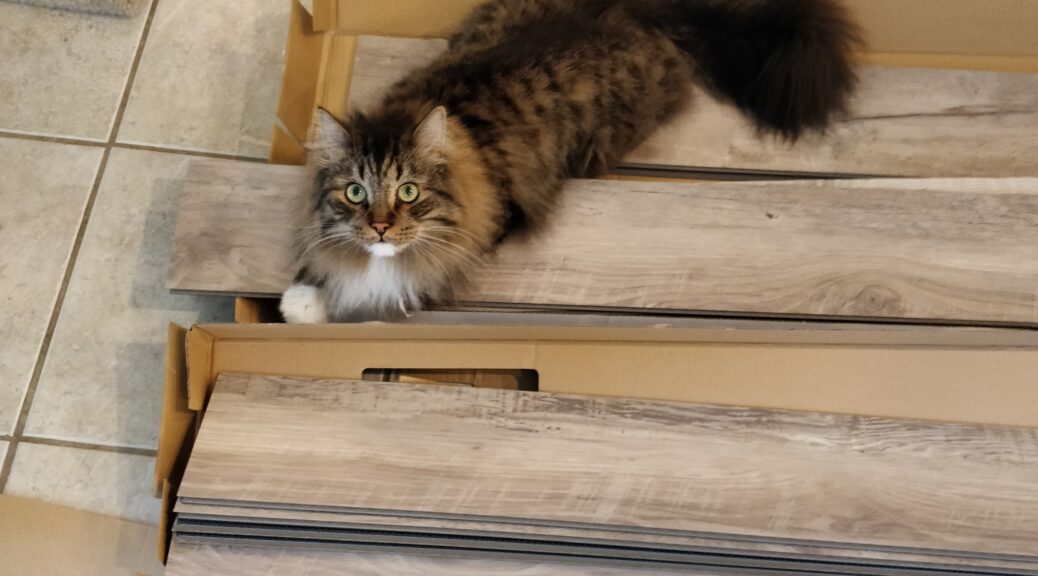 DIY: Installing DuraLux Highland Gray luxury vinyl plank
DIY: Installing DuraLux Highland Gray luxury vinyl plank
This summer, I was supposed to take my first ever trip to the British Virgin Islands. But, as you can imagine, 2020 completely threw those plans out the window.
So, with a week of PTO already on the calendar, my husband and I decided to tackle a home project we've long been talking about– installing luxury vinyl plank. We had previously picked out the DuraLux Performance Highland Gray Rigid Core Luxury Vinyl Plank at Floor & Decor and decided it was time to finally take the plunge.
We selected the DuraLux Highland Gray as it's considered a 'floating' floor and can be installed over other flooring, including tile. We had initially been looking at more solid gray options, but choose the DuraLux Highland Gray as it has hints of white, brown, and gray. There's actually 6 different styles of planks, so the completed floor has a very unique, distressed custom look that I absolutely love! It claims to be scratch and stain resistant and comes with a sound-reducing underlayment.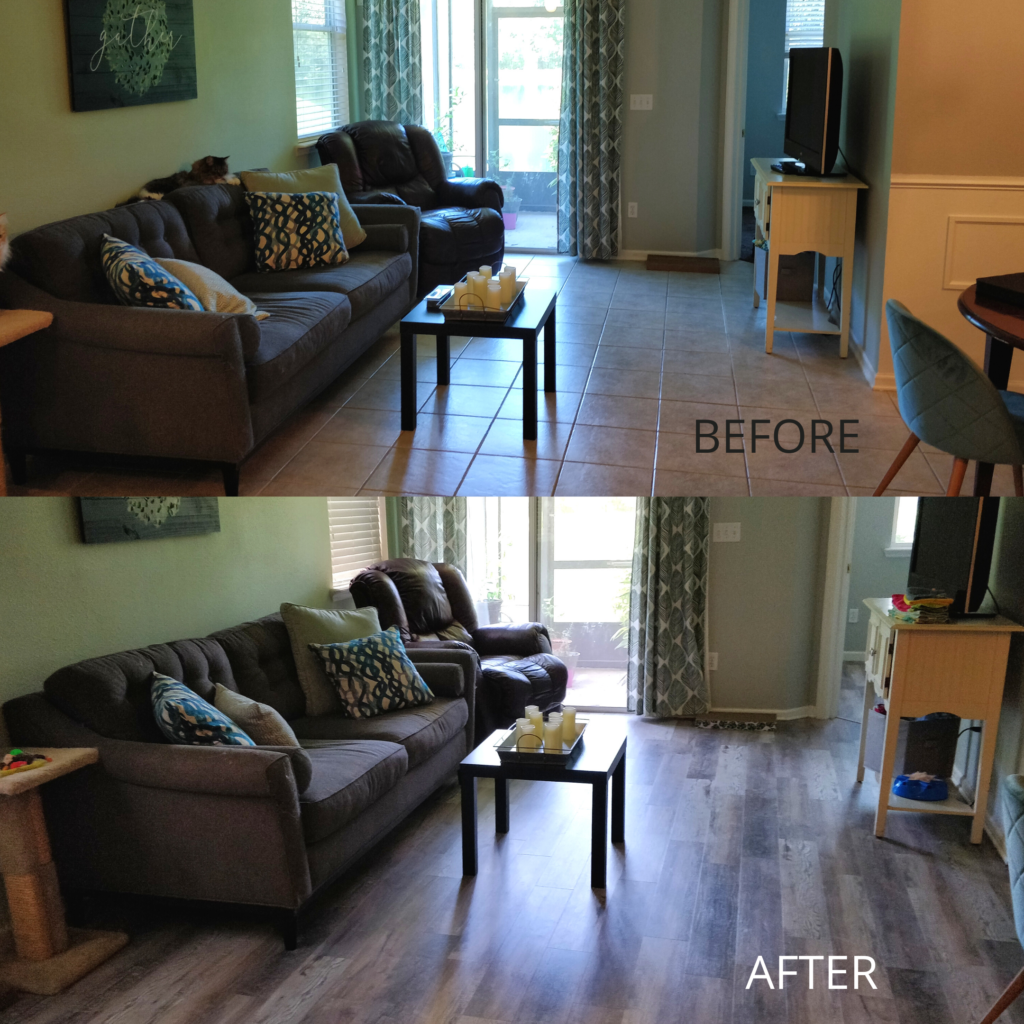 Installing DuraLux Highland Gray Luxury Vinyl Plank
Let me start this off my saying, neither me, nor my husband are expert contractors by any means, but we successfully installed floors that have (so far) survived daily living and two cats.
The first thing we did was measure the rooms where we planned to install our flooring and came up with a rough guesstimate of a little 600 square feet, which equates to about 27 boxes. It's recommended you give yourself some extra in case of bad cuts and waste during the process. (We actually ended up with 3 extra unopened boxes that we plan to return, so we may have gone a little overboard.)
After bringing all of those boxes home and unloading them, which was no small task as each box weighs 40 pounds, it was time to get to work.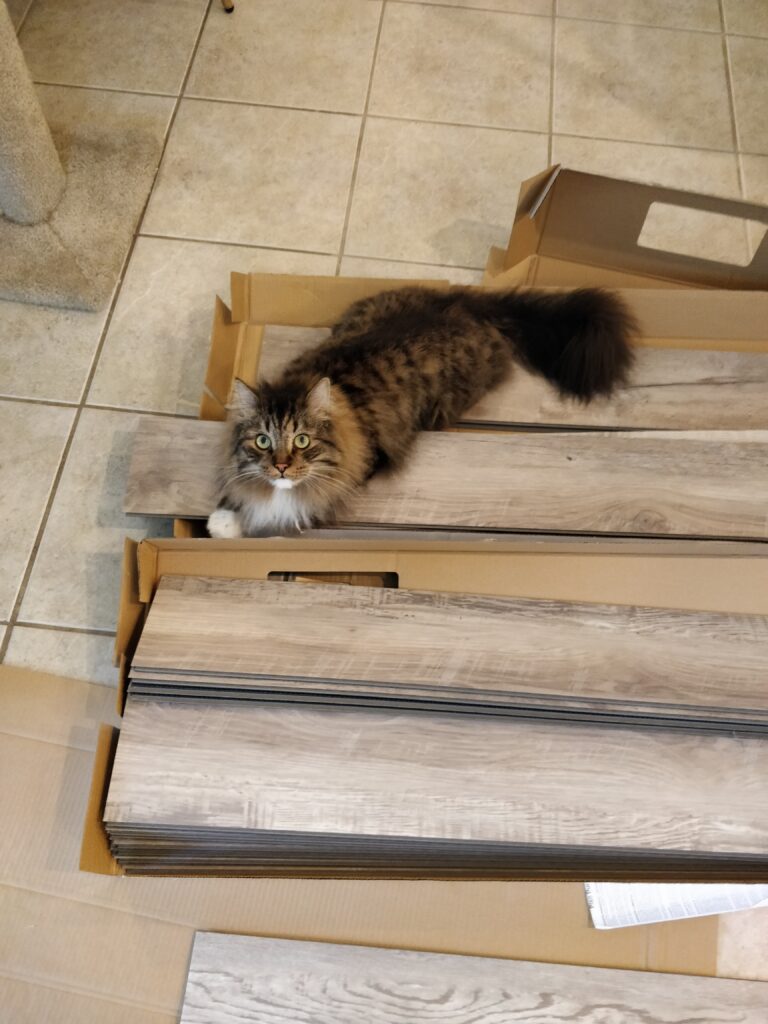 That meant ripping up the quarter round on the baseboards which was way more difficult than we expected. Whoever installed the tile floors in our home really went crazy with the caulking. But with the help of YouTube, we were able to figure it out eventually.
Once all the quarter round was removed and the tile floor was vacuumed, it was time to begin the actual installation of the luxury vinyl plank. Part of why we chose this type of flooring was the ability to lay it over our tile. Again, we consulted YouTube.
The video below was extremely helpful with getting the big picture of how all of the boards fit together and the importance of spacers.
Installing the floors when dealing with straight walls and no odd corners was a simple process, but when it came time to make tricky cuts, the below video provided a key strategy using pieces of paper. If you want to skip ahead, it's right around the 3:00 minute mark.
That's all there really is to it. It's tedious work that takes time, but nothing about the process is necessarily hard.
Our most used tools for this project were the following:
Mallet
Putty knife
Flat pry bar (great for removing quarter round)
Miter saw (A table saw could also work)
Jig saw (highly recommend getting a laminate blade instead of using the all-purpose one)
Air compressor+nail gun to reinstall quarter round
Knee pads/kneeling pad
Ruler+measuring tape
Electric drill
Wrenches (if you need to temporarily remove a toilet)
Utility knife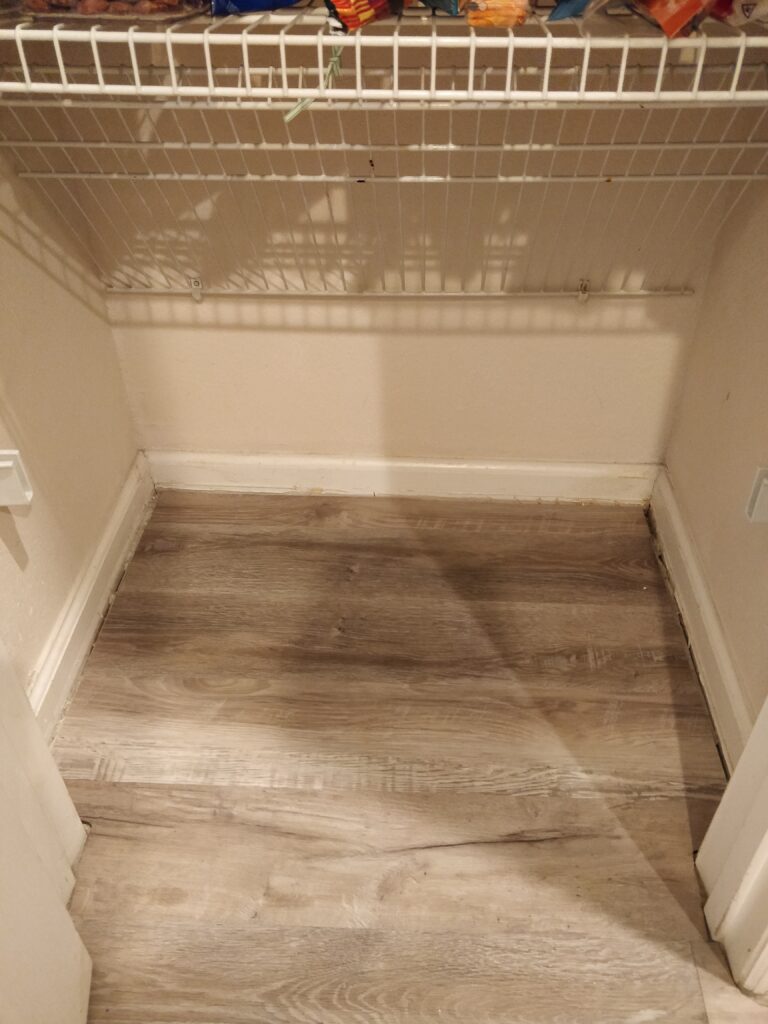 Final Thoughts on installing DuraLux Highland Gray LVP
I don't know that I've ever been more sore in my life. Installing a little over 600 square feet of the luxury vinyl plank took us almost the full week, but I could not be more happy with the results. Before, with the tile, I wanted to buy rugs to cover it all up; now I want to show the floors off! We still need to buy quarter round to replace the parts we broke and then caulk, but the hard part is done. Now it's just the finishing touches.
Would I do it again?
Maybe. There's no denying this is hard work. For projects this big, I would consider hiring a professional in the future. However, if I was planning to install luxury vinyl plank in a bathroom or laundry room, I would probably do it myself.
I'm glad this project is behind me, so I can turn my focus to tackling my 2020 summer bucketlist!