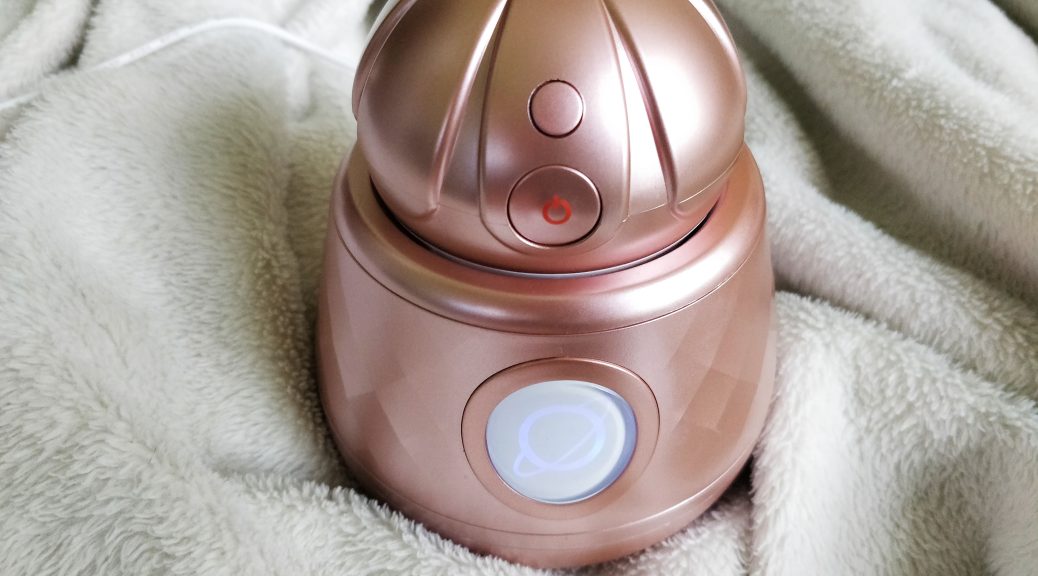 BEAUTY REVIEW: ONA Diamond Facial Cleansing Brush sold by TAO Clean
BEAUTY REVIEW: ONA Diamond Facial Cleansing Brush sold by TAO Clean
You know that feeling when you come home after a long day at the beach and you shower off, but you still feel like you have sunscreen on? Or maybe you try out a new moisturizer and it feels like it's pasted on to your skin even after using your favorite face wash? That's where this little device comes in!
The ONA Diamond Facial Cleansing Brush sold by TAO Clean claims that it "cleanses and exfoliates at a deeper level" and leaves you with "a clear, glowing complexion."
I will say this facial brush is a bit of a splurge- more on the luxe side of Luxe Life//Small Budget- but it's become part of my daily skincare routine and I am loving it!
About the ONA Diamond Facial Cleansing Brush sold by TAO Clean
What does the ONA Diamond Facial Cleansing Brush do?
Put simply, the Tao Clean Ona Diamond Facial Cleansing Brush is an electric brush with fairly soft bristles that you can use on a daily basis to clean your face. The company says it "gently exfoliates dead skin cells and dirt, reduces oil, removes makeup, and deep cleans your skin."
The brush also comes with a special charging base that uses UV-C light to kill germs. The company is very big on the self-sanitizing side of the product, and in fact, TAO Clean stands for The Art of Clean. It's great because as a user of the brush, you never actually have to do anything in terms of cleaning it yourself. It does it all for you once you return the brush to the docking station! (They also sell electric toothbrushes with a similar base station set-up.)
How do I use the ONA Diamond Facial Cleansing Brush?
The brush is very easy to use. You hit the power button and you're ready to go. Depending on your skin and preferences, the brush has dual settings that control how fast it spins: Regular or Sensitive. That's the only other button on the device.
When in use, the brush spins for 20 seconds and then briefly pauses, reminding you to move to a different area of your face. It does this three times total for a 1 minute cleansing experience. At first, I was confused by this, but then I found in the manual that you should split your face into three sections (pictured below) when using the Tao Clean Ona Diamond Facial Brush.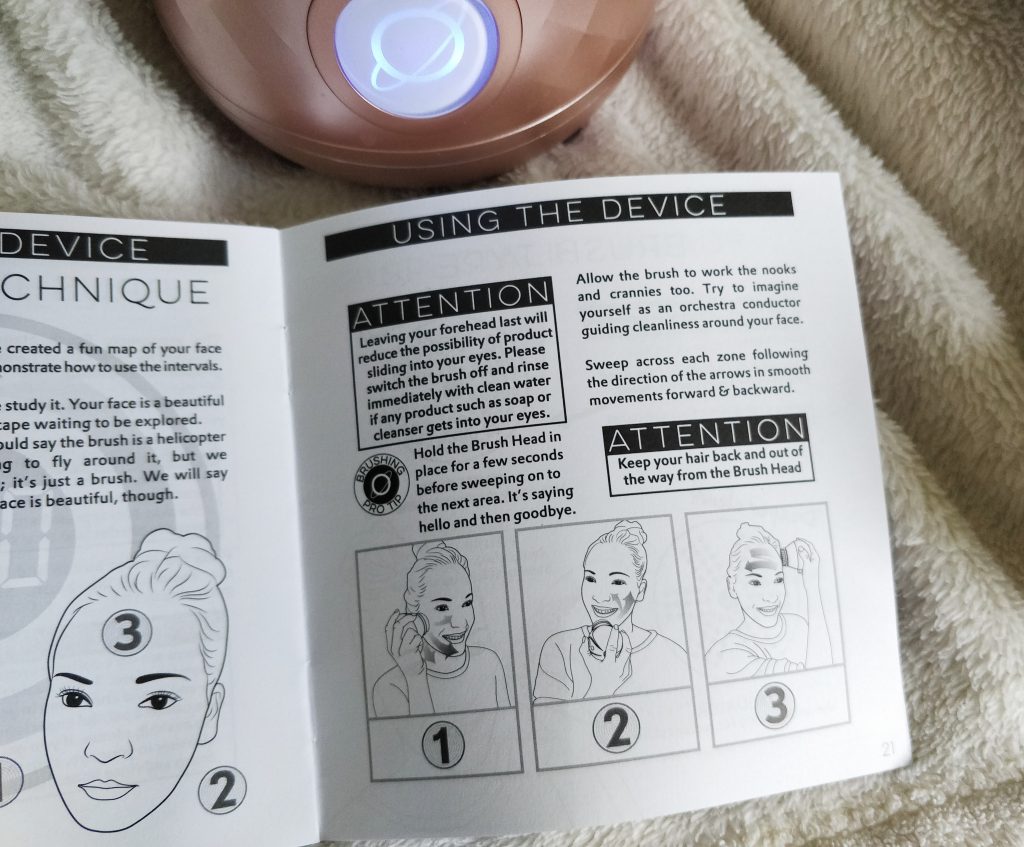 My Experience Using the ONA Diamond Facial Cleansing Brush sold by TAO Clean
From the moment I received the ONA Diamond Facial Cleansing Brush as a birthday gift, I loved it! It's so cute and looks like a little droid from Star Wars. Seeing it on my bathroom counter brings a little dose of joy (I have the rose gold color).
The brush has quickly become a part of my daily routine. I prefer to use it at night, that way I can remove any lingering make-up or sunscreen from the day. (I did finally start using a daily sunscreen- check out some of my sunscreen reviews here.) I usually apply my face wash and then use the cleansing brush to gently scrub the cleanser over my face. Afterwards, my skin always feels so soft! In theory, you could use the brush dry, but the box it comes in does recommend using a damp brush and then adding your favorite face cleanser to the bristles.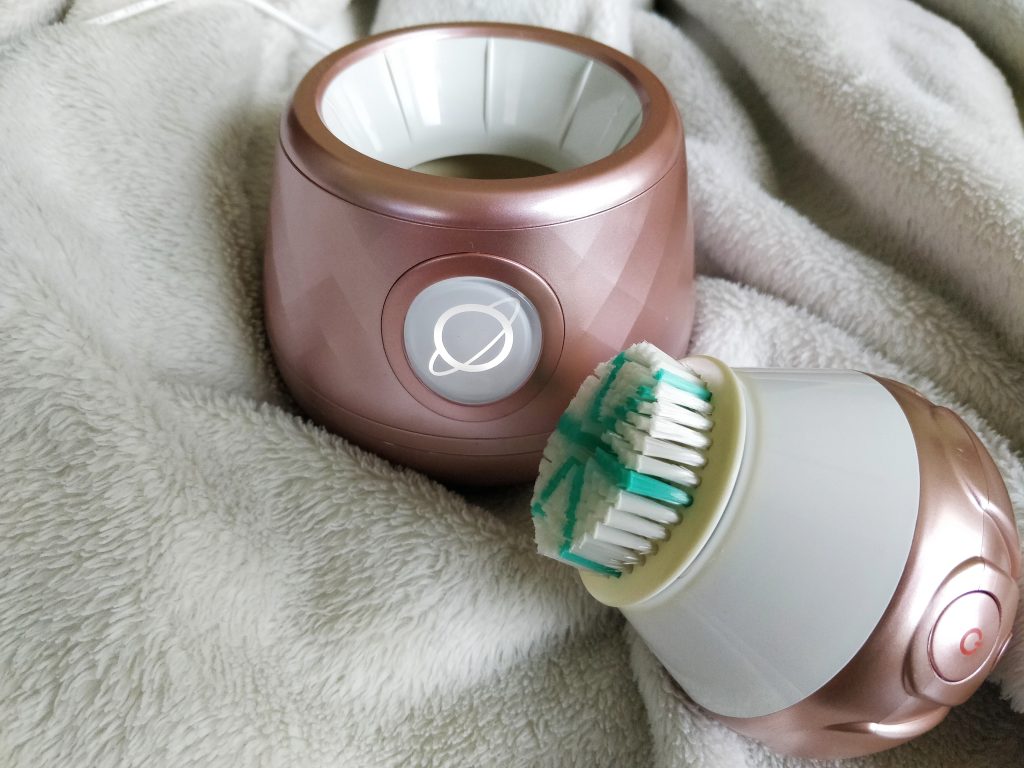 I've personally only used the daily care brush head that it came with, but there are several different replacement brush options on the TAO Clean website, including exfoliator brush heads, silicone brush heads, and sensitive brush heads. There are also brush heads specifically designed for your body, rather than your face if you wanted to use the brush in a different way.
I'm intrigued by the exfoliator brush head, but also a bit scared as sometimes my skin can be sensitive. It's probably an option I'd use once a week rather than for everyday cleansing.
Final Thoughts on the ONA Diamond Facial Cleansing Brush sold by TAO Clean
Is the ONA Diamond Facial Cleansing Brush worth the money?
In my opinion, absolutely! (Note: As of writing there is a significant price difference between the TAO Clean website and Amazon- so shop carefully or wait for a sale!)
I feel like my skin is so soft and clean after each use! Since I've started wearing a daily face sunscreen, I definitely need the extra help removing any leftover product. It's hard to say for certain if the brush has reduced my breakouts, but I do feel like my skin is looking good these days. To be fair, that could be because I've been very consistent with my skincare routine this year, but I feel like the brush has been an important part of that.
Have you tried out the ONA Diamond Facial Cleansing Brush? And are you as obsessed as I am? Leave a comment below!