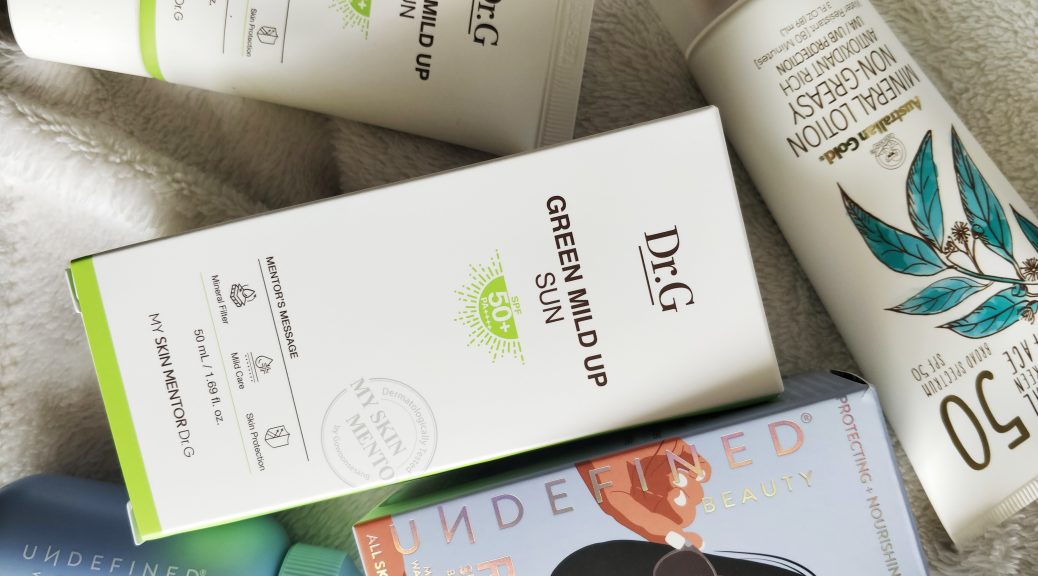 BEAUTY REVIEW: My Journey of Finding a Daily Face Sunscreen
BEAUTY REVIEW: My Journey of Finding a Daily Face Sunscreen
I'm a bit ashamed to say it because I know how important all the skincare and anti-aging experts say it is… but I haven't been using a daily face sunscreen. Yes, I will absolutely wear sunscreen when I'm going to the beach or pool, but I've been skipping out on the daily wear.
But for 2023 and beyond, I want to change that.
Partly, because I'm getting older and, partly, because I want to start using some more intense skincare products that will require the use of sunscreen so I don't seriously burn my skin.
To get started on this mission, I consulted my personal skincare guide, my mom, (Thanks Mom!) and started trying out daily face sunscreens.
Dr.G Green Mild Up Sun
The Dr.G Green Mild Up Sun sunscreen was the first sunscreen I tried on this journey and I was immediately surprised by how high quality face sunscreens really are. It's nothing like the sunscreens you buy for the beach and it made me wonder why I've been avoiding wearing a daily face sunscreen for so long. Why didn't anyone tell me?! If you're not using a daily face sunscreen either, this is my PSA for you.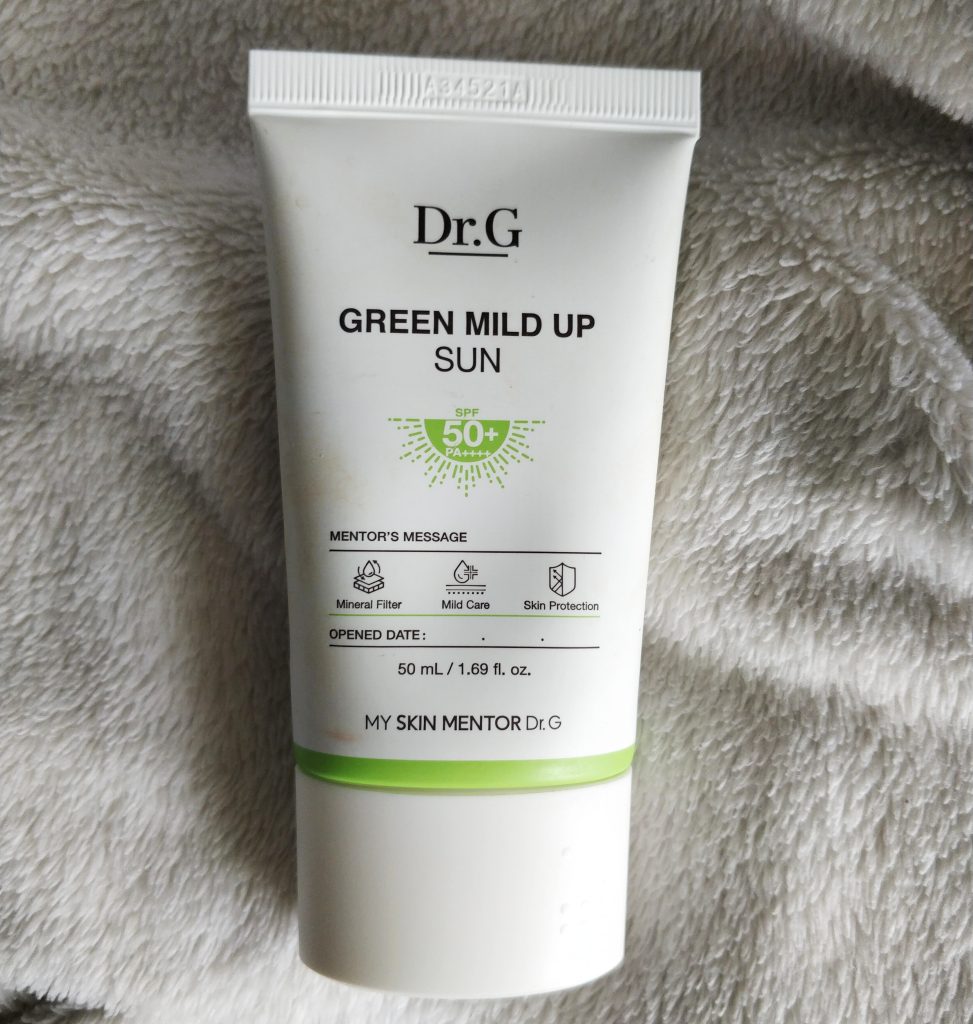 The Dr.G Green Mild Up Sun sunscreen is a mineral lotion that is NOT tinted. While some reviews complained that it left a white shadow on their skin, I personally didn't have this issue, but I could see it being a problem if you're a bit more heavy-handed on the application.
I found that the lotion rubs in easily and it feels smooth on the skin. I also didn't have any issues with being shiny and was overall pretty happy with this sunscreen. I would say that it maybe leaves a slight residue on the skin, but nothing that bothered me or was noticeable to anyone else.
Out of the three face sunscreens I've tried, this one had the strongest scent to me, but it does fade. It also doesn't include any 'extras' to help moisturize. This sunscreen is strictly about being a sunscreen.
Price: $22 for 1.18 fl oz on the Dr.G website.
Botanical Tinted Face Sunscreen from Australian Gold
As Australian Gold tends to be my go-to sunscreen for the beach, I had very high hopes for their mineral face sunscreen. And I feel like they delivered! As soon as the lotion touched my skin, I knew this would quickly become a favorite.
Unlike the Dr. G sunscreen, this one is tinted. But color options are limited: Fair to Light or Medium to Tan. According to the Australian Gold website, this sunscreen is specially designed for sensitive skin (yay!) and includes a few botanicals, including kakadu plum, eucalyptus and red algae.
Personally, I found that this sunscreen feels like you aren't wearing any sunscreen at all, which for me is a huge win! The lotion also rubs in easily and looks just fine under makeup. There is a slight scent to the lotion, but it fades quickly and doesn't linger. While I've heard some people say that it was drying for their skin, I haven't personally had that problem.
Price: $15.99 for 3 fl oz at Ulta
R&R Sun Serum from Undefined Beauty
The R&R Sun Serum from Undefined Beauty was the third sunscreen I tried and it was an immediate no from me. Though, I am softening my stance… it seems to grow on you!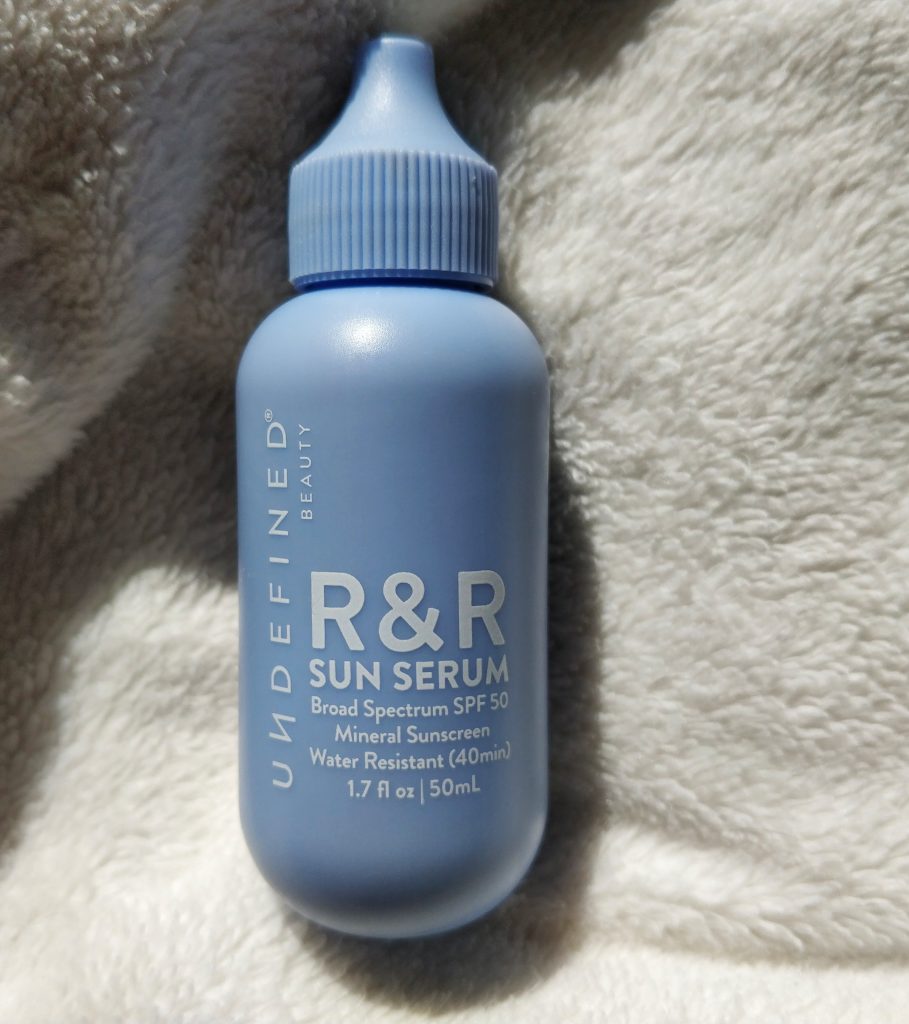 Despite my best intentions, the first time I used the R&R Sun Serum I somehow applied too much. This led to some intense rubbing as I tried to make the tinted liquid blend in to my skin. (This was not an easy task!) The end result was very shiny skin that had a greasy feel to it. But I stuck it out and kept it on all day. Later in the day, the overly shiny skin faded to more of a dewy look. Honestly, I was kind of digging how it looked on my skin, as I tend to lean more toward the dry side. Unfortunately though, that greasy skin feel never went away.
Despite the rough initial first test, I've tried it a few more times since then and I can confirm it is definitely less shiny and less greasy feeling when you use a more appropriate amount. Though since it's a serum, rather than a lotion, I did still have difficulty rubbing it in. It's like it didn't want to spread?
However, I could see this one being a great choice if you deal with dry skin and want a sunscreen that's a little more hydrating! The Undefined Beauty website says it contains all sorts of good things including niacinamide, jojoba, and raspberry seed. I also love the packaging and see it being a great travel option as it's not bulky at all.
Price: $28 for 1.7 fl oz at Ulta.
The Verdict
If you've read this far, I think you already know the answer, but for me the winner is… Botanical Tinted Face Sunscreen from Australian Gold.
I don't know exactly how to describe it, but the Australian Gold sunscreen lotion is so easy to apply and rub in and has such a nice texture to it. It's almost silky smooth! I was pleasantly surprised to learn after the fact that it was the cheapest of the three options and you get the most by volume. Talk about a win!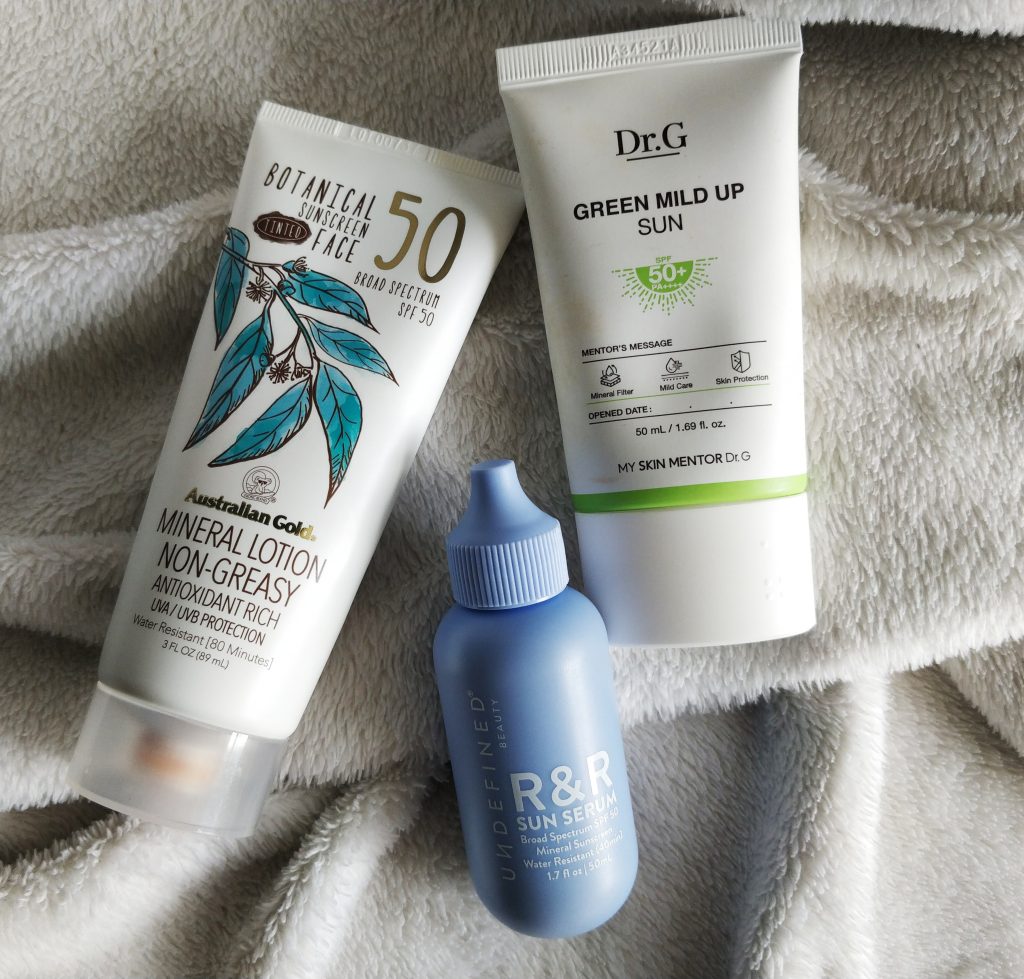 That said, I think any of these three would be great options. I could see myself using the Australian Gold Botanical Tinted Face Sunscreen in the summer and then switching to the more hydrating R&R Sun Serum during the winter when my skin gets drier.
Do you have a favorite daily wear face sunscreen? Leave a comment below with your recommendation!
Want more beauty reviews? Check out my review of Aldi's Lacura Face Care H2O Advance Aqua Gel.