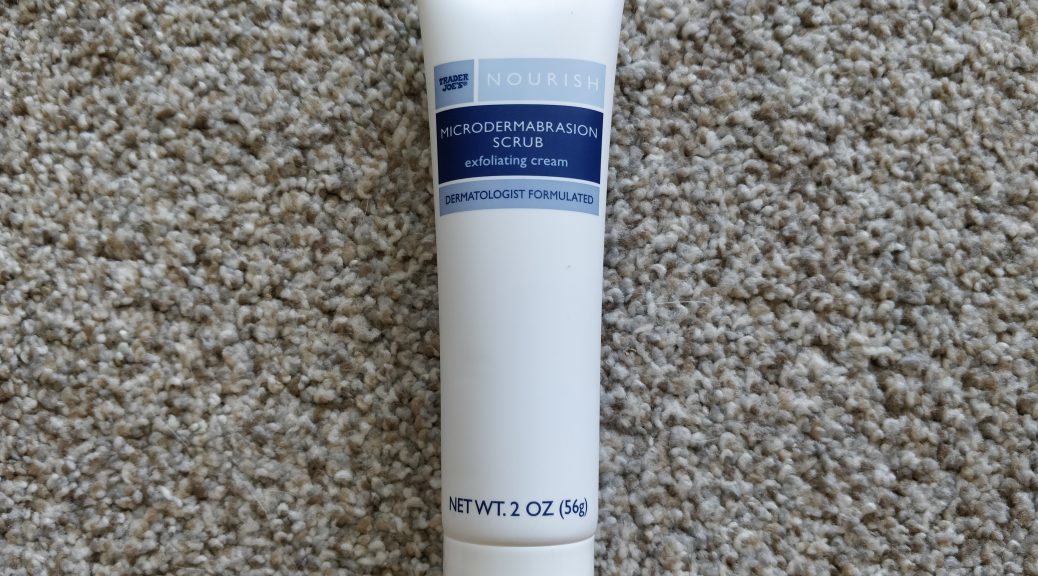 BEAUTY REVIEW: Trader Joe's Nourish Microdermabrasion Scrub Exfoliating Cream
BEAUTY REVIEW: Trader Joe's Nourish Microdermabrasion Scrub Exfoliating Cream
My streak of trying out Trader Joe's products continues!
This time it was the Trader Joe's Nourish Microdermabrasion Scrub Exfoliating Cream that caught my eye. Something about the blue and white minimalistic packaging felt fancy and spa-like, while still coming in at a budget-friendly price of about $5.
About Trader Joe's Nourish Microdermabrasion Scrub
Surprisingly, the packaging for the scrub doesn't provide a lot of details about the product.
It simply recommends applying the scrub to damp skin on your chest, neck, and face, massaging for up to two minutes, and then rinsing. It also says you can repeat as often as desired. Though, I would personally be hesitant to use too frequently if you have sensitive skin.
The ingredient list on the tube is quite long (pictured below) and contains pumice, which I imagine provides much of the scrubbing/abrasion effect. It also contains various different types of seed oil, some of which I have heard of (like jojoba seed oil and castor seed oil), but also some I've never heard of before (like Aleurites Moluccanus seed oil and Borago Officinalis Seed Oil).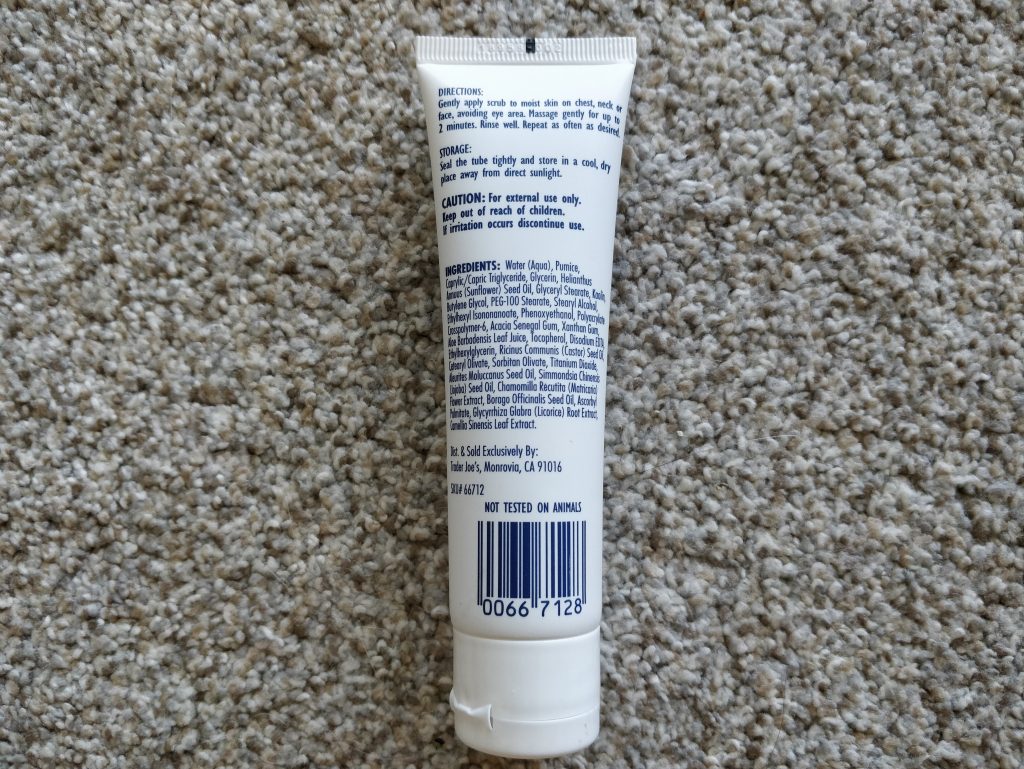 My Experience Using Trader Joe's Nourish Microdermabrasion Scrub
I love this scrub!
There is something funny about rubbing volcanic rock all over your face, but it feels magical. The pieces are so small (hence the micro in microdermabrasion) that at first it can feel like it's not doing anything. But as you continue to massage, you definitely begin to feel the effect! So, proceed cautiously, especially if you plan to use on your neck.
After use, I noticed my skin felt noticeably smoother! I imagine this is the pumice scrubbing away all of my dead skin cells and whatever else builds up on my face, like make-up. This exfoliation process is supposed to bring a new glow to dull skin and dermatologists say it has the added benefit of allowing your skincare products to better absorb into your skin. When it comes to skin types, I tend to have dry skin and haven't experienced any irritation.
I personally love to use this facial scrub in the shower and then follow it up with a steaming session using the Pure Daily Care NanoSteamer available on Amazon. The idea of clearing away the top layer of gunk and then using the steam to release any lingering bacteria feels so refreshing. I then apply a moisturizer or facial oil to try to take advantage of the enhanced skin absorption now that the dead skin cells are long gone.
Would I buy it again? Absolutely.
I like that this is more of a gentle scrub compared to some of the exfoliators that I've used in the past. I could also see it being used as a nice body scrub if you have acne-prone skin on your back or upper arms. Plus, it comes at a nice price point for my budget.
Want More Trader Joe's Beauty Reviews?
Check out my thoughts on the Trader Joe's Supreme Hydrating Eye Cream and Trader Joe's Marula Facial Oil.