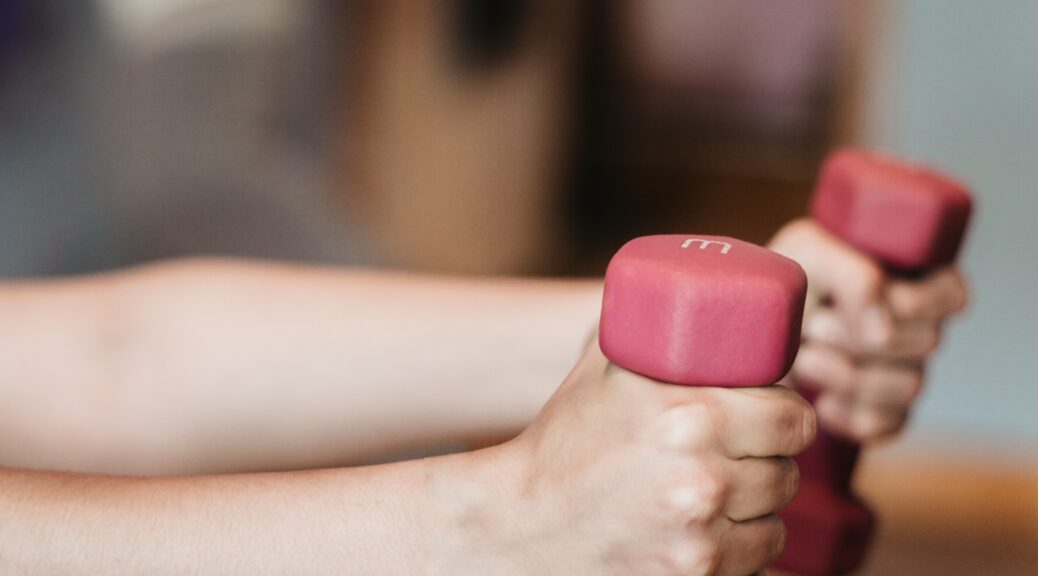 ROUND-UP: The best 5 dumbbell arm workout videos on YouTube
ROUND-UP: The best 5 dumbbell arm workout videos on YouTube
While gyms have largely reopened, I'll be sticking with my at-home workouts for now– with the help of YouTube. (I've talked about my previous fascination with YouTube fitness videos HERE and HERE.)
I've really focused on cardio in the past, but I've made it a personal goal of mine to get into a routine of working out my arms. I've been stuck in an endless cycle of avoiding arm workouts because I'm so weak. I'm then weak because I continue to avoid arm workouts. Anyone else have this problem?
So, with that in my mind, I'm aiming to get in a quick 10 or 15 minute arm workout twice a week using only minimal equipment– just a pair of dumbbells and a mat.
My favorite dumbbell arm workouts
1. Full UPPER BODY Workout (Tone & Sculpt) – 15 min At Home
This is probably the dumbbell arm workout video I turn to the most!
I love the simple movements and overall calming vibe I get during this workout. There are two rounds, so you may want to have multiple weight options in case you need to move down.
The last move– the tricep extension– really gets me every time!
2. TONED ARMS // Tabata with Weights
This dumbbell arm workout is only 10 minutes long (technically a bit shorter with the intro), so it's easy to squeeze in if you're crunched for time. Again, there's a very calming vibe that I love!
There are 3 rounds in this video, so if you get bored easily, you may find yourself struggling. That said, it really gives you the chance to focus on proper form.
3. GET TONED ARMS 10 MINUTES | Weighted Arms Workout for Women- Upper Body, Triceps (VERY Effective)
If you like your arm workouts to be a bit more high energy, but not over-the-top, this is the one I would recommend. It's only 10 minutes long with a brief warm-up and cool down stretch.
This video really flies by as there are very few repeating moves! This is also a good one if you don't own some kind of a mat as there are no moves involving the ground.
4. 15 Min DUMBBELL ARMS & SHOULDER WORKOUT at Home | No Repeat
This is the video I turn to when I feel myself dreading my arm workout as I absolutely love that there are no repeating exercises! It's hard to get bored when the moves are constantly changing.
I will say in terms of difficulty, I find the 45-seconds per move to be significantly tougher than the 30-seconds in some of the other dumbbell arm workout videos.
5. 10 Minute Arm Toner | Total Body Transformation Workout
If you need your dumbbell arm workout to be very high energy, this is the best pick for you! Cassey Ho of Blogilates is all about the encouragement during this 10-minute video. You will definitely feel a good burn in your arms! I highly recommend using a lower weight for this one. In fact, I had to do some of the moves with no weight at all.
Have any favorite dumbbell arm workout videos I missed? I'm always on the hunt for new videos!